Click on photos to enlarge
Festskrift til Den Norske Synodes Jubilaeum 1853-1903. Norwegian Antique Book.
History of the first 50 years of the Norwegian Evangelical Lutheran Church in America. Illustrated with photographs. Includes biographies of early church pastors, histories of Luther College, Decorah; Luther Seminary, Hamline, Minn.; Lutheran Ladies' Seminary, Red Wing, Minn.; Lutheran Publishing House, Decorah; and many others including several hospitals in the Midwest.
The Norwegian Synod, Decorah, Iowa, 1903. Hardcover. Book in excellent Condition / Original brown dust jacket in poor shape. Blue boards with pretty decorated endpapers. 456 pages; illustrated. Some wear til covers; Text in Norwegian. Errata slip tipped in at rear. Many black and white photos.
Item #boc10376 $58.00
---
Click on photos to enlarge
Nya Färder i Amerikas Förenta Stater ~ New Journeys in the United States 1902 Graphic Scarce Swedish Book
New Journeys in the United States (Nya Färder i Amerikas Förenta Stater) by Paul Peter Waldenström
The prominent leader of the Covenant in Sweden, Paul Waldenstrom, made four speaking tours in North America in 1889, 1901, 1904, and 1910, each time spending several months crisscrossing the continent. He published his journals in the form of travel books in "Through the United States of North America" 1890, "New Journeys in the United States of America" 1902, and "Through Canada" 19051, and sent regular commentary of his trips to Swedish American newspapers for immediate publication.
**Illustrated profusely and foldout of Cunard Lines Ivernia in the year 1900 Apr. 14, maiden voyage Liverpool - Queenstown - New York
**Great early New York City map
**Old envelope J. E. Skogman - Shoe, Harness and Tire Shop, Christine North Dakota
This book is in very good condition for the age. Beautiful boards with green and gold decoration on a dark blue cover. The covers show some slight damage - top of spine and small water or soiled damage to top back cover and few last pages only top (see photos). Need's freshening. First Edition. Faint pencil on end paper Jul 1925.
Item #boc10387 $55.00
---
Click on photos to enlarge
1904 Blätter und Blüten (Leaves and Flowers), Illustrated, German Language, Book 10
Wonderful early book on early German children's stories. Beautiful illustrations, some with color. Text in German
Decorated cover. I believe this to be an early edition.
Graphic pictorial cloth. Hardcover. No Jacket. Illustrated. 392 pages. Band 10. 8½" high x 6" wide x 7/8" thick.
Bound in original red cloth with decorative flower and leaf detailing on cover and spine. Gold gilt lettering. Frontispiece with tissue guard.
The main damage is a water stain on cover that shows through front blank pages, but does not affect the title page. Normal aging to corners and edges.
Contents clean, binding of pages sturdy. Really nice copy of this exceptional title.
More photos available upon request.
Item #10195 $ 15.00
---
Click on photos to enlarge
I.N.R.I. - Frohe Botschaft eines armen Sünders Gebundene Ausgabe – 1905 (Good News of a poor sinner)author Peter Rosegger Altogether more beautiful specimen of E Rosegger Peter L.Staackmann , Leipzig , 1905 394 pages.
First Edition. Brown linen look cloth binding very beautiful Art Nouveau Jugendstil design. Very good condition. Slightly bumped corners. Previous owners name and handwriting inside. Gold lettering on spine and cover. Tight and sturdy.
Item #boc10340 $45.00
---
Click on photos to enlarge
Skogsblommor Illustrated Swedish Calendar 4 books ~ 1913 thru 1916 Art Nouveau
Anthology for Swedish-Americans with emphasis on religious and missionary topics. Here are four Kalenders (Calendars) in Swedish with very beautiful Art Nouveau styled designs and illustrations.
1913, 1914, 1915, 1916 - J. V. Martensen, Chicago, IL,
Green and Red decorated boards, gilt and white image of a butterfly on a long flowering plant illustration. An annual publication.
5¾" X 6¾" tall
Rare to find 4 copies together from one estate. Please see photos. Insides clean and tight. Some slight damage to cloth covers noted in photos. Beautiful decorated end papers. Stale smell, airing would suffice.
Item #boc10272 $35.00
---
Click on photos to enlarge
Märchen und Erzählungen für Anfänger. Erster Teil (German Edition) H. A. (Hélène Adeline) Guerber - Fairy tales and stories for beginners 1900 Heath & Co.
This is a German text book for beginners with an introduction in English and a full vocabulary at the end.
This shows someone's several pages of work notes. 155 pages with Heath Readers directory ads last. Blue cloth with penciling notes and Bookseller stamp at back. Good with bumped corners. Tight and intact.
Item # 10336 $12.50
---
Click on photos to enlarge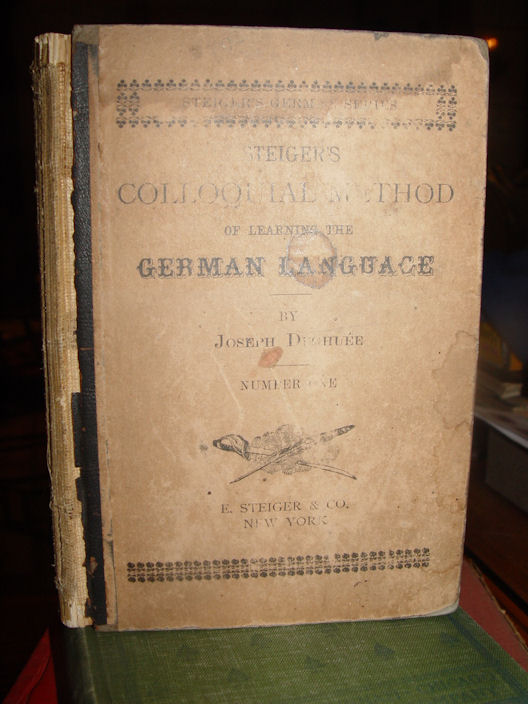 Steiger's Colloquial Method of Learning the German Language NY First Ed. 1890
First course of Steiger's German Series.Includes numerous pages of examples of
handwriting and written characters.. First Edition. German Language, German Instruction, Antiquarian German, German Handwriting.
New York: E. Steiger, 1890. First edition. Solid copy. Bright gilt spine titles, light wear to covers.
248 pages, no writing and no markings to text or endpapers. Cover (hardboard) shows some stains.
Good, No Jacket as Issued. leather spine deteriorated, still tight
Item 10334 $16.50
---
Click on photos to enlarge
An Adventure in the North (Vildmarkens Vagabond)
Parker, Sir Gilbert
Published by Nordiska Forlaget, Stockholm Sweden, 1911
Sir Horatio Gilbert George Parker was born November 23, 1862 in Camden East, Addington, Ontario, died Sept. 6, 1932, known as Gilbert Parker, was a Canadian novelist and British politician.
Parker was educated at the University of Trinity College. He started his working life as a teacher at the Ontario School for the Deaf and dumb (Belleville). Later he taught at Trinity College. In 1886, he traveled to Australia and was for a time editor of the Sydney Morning Herald. He also traveled extensively in Europe, Asia, Egypt, and later in northern Canada. In the early 1890s he began to have a growing reputation as a writer.
No Jacket. Leather. 158 pp. Translated to Swedish. Cover is blind-stamped with design, gilt lettering on spine.
Very good condition with some slightly bumped corners. Very tight and clean.
Item 10066 $19.50
Measures 5 1/2" x 7.75
---